Woolstone Farm Livery Yard is located in the heart of the village of Woolstone, Oxfordshire at the foot of the Uffington White Horse; we have a 20x40m Indoor School, excellent All Year Round turnout and easy access to the Ridgeway, the Downs and quiet country lanes for all hacking needs.
We provide super facilities for all your horses' needs including:
20x40 indoor school with a recently renewed surface
All year turnout
Large, airy stables
Excellent off-road hacking
24/7 On yard security
Great location with many competition venues within one to two hours drive
Comfortable coffee room
Horse walker
Mix of post and rail and electric fencing
---
Our Indoor school is available to our clients throughout the day, and has a new surface as of early 2019. There are also a range of jump wings and poles, a high mounting block & sound system that can have Radio, CDs or Aux input. Our clients can book the arena for sole use (i.e. Lessons or Jumping practice) at certain times of day, with peak times available for all.
(Please note: We rarely allow the arena to be hired externally, due to our clients use having priority)
To achieve all year round turnout we have 'Summer fields' and 'Winter Fields'. Our yard is based in clay, even though we are based so close to the chalk White Horse Hill, and grows good thick grass.
The 'Winter Fields' are all close to the yard, with the majority being Post & Rail fencing, wide 5 bar gates, with field sizes varying from maximum of 4 (we prefer groups of 3) down to solo fields as necessary. We are constantly improving our gateways and tracks and they have come through the winter well this year.
The 'Summer Fields' are more for our DIY clients, are around 500m from the yard (without going over any public roads etc) and having not been grazed all winter; they are lush and full of grass. Similar field sizes, horses can be left out 24/7 if necessary, although we would encourage strip grazing to help make the grass last longer, and to keep their waists so that their saddles still fit!
We have quite a few options for hacking; For example a short ride around the beautiful village leads to Woolstone Hill where riders can go through a gate onto the National Trust land. A permitted path goes up to and around the Uffington Hill Fort and just beyond is the Ridgeway Long Distance path and many miles of wonderful downland riding.
We have clients who do all the different distances, from just pootles round the local block, a 'Ride & Chat' around the neighbouring village of Uffington, and even the other extreme of one or two endurance riders who disappear up the hill for hours.
We are also within travel distance of various competition/training venues, like Hunters Equestrian (40mins), Wickestead Horseplay (25mins), Boomerang Stables (35mins) and many more.
A superb place to train horses for dressage, eventing, show-jumping and endurance, or just for happy hackers.
---
Current Vacancies
Both DIY & Full Livery available. For more information about exactly what these services entail, please go to the relevant tab at the top of the page. To book a look around the yard and get a feel for us, or just to find out a bit more about the yard you can ring Elaine Baber, the owner of the yard, on 07850 879 127.
Or if you prefer, you can email elaine.baber@woolstonefarm.co.uk.
You can also send our Facebook page a message: https://www.facebook.com/woolstonelivery/
Image Gallery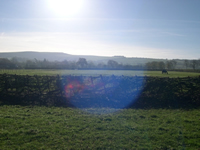 ---
Click here for details of how to contact us.